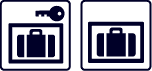 Luggage and service
At the exit to Reventlovsgade you will find the Baggage Center with a large number of storage boxes for luggage and storage with personal service.
Luggage lockers
Small box (35 x 45 x 90 cm) DKK 70,- per 24h
Large box (35 x 60 x 90 cm) DKK 80,- per 24h
Bikes DKK 85,- per 24h
Storage with personal service
Smaller pieces of luggage, per piece DKK 75,- per 24h
Larger pieces of luggage and baby carriages per piece DKK 85,- per 24h
Group discount over 10 persons: DKK 45,- for children (up to 16 years). For persons over 16 years DKK 65,-.
Luggage can be stored for max. 10 days. If there is a need for a longer period, please contact the staff in the shop.
Contact
Tel. +45 24 68 31 77
Opening hours
ATTENTION: Baggage and Lost property is closed until May 2.nd 2021 due to Covid-19 restrictions
Monday – Saturday
05.30 – 01.00
Sunday and public holidays
06.00 – 01.00

Lost/Found
In the unfortunate event that you should forget personal belongings on the train, you will find the Lost/Found Center at the exit to Reventlovsgade.
You can also report lost property online here.
Contact
Telephone inquiries (weekdays 09.00 – 11.00) tel. +45 24 68 09 60
Opening hours
Monday – Friday
08.00 – 20.00 Saturday – Sunday
10.00 – 17.00