Central Station Shops
Read more about the specific stores below.
7-Eleven
We invite you to explore 7-Eleven, where you will find everything from freshly baked bread and organic fairtrade coffee, to a large selection of delicious salads and freshly-made sandwiches.
Espresso House
Whether you're looking for high quality coffee, tasty sandwiches or a delicious cold drink, our skilled baristas at Copenhagen Central Station are ready to welcome you.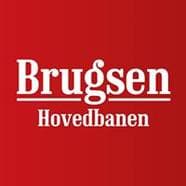 Brugsen Hovedbanen
Brugsen is your easy choice for groceries for everyday life in the big city. We have collected a fine selection from the big supermarket at reasonable prices. Fruit, vegetables, meat, bread and fish are fresh and delicious.
D'let Thai Take Away
D'let is healthy fast food. Choose from 7 large buffets with freshly prepared ready-mixed salads, lots of meats and authentic Thai dishes.
Dunkin' Donuts
We have been dishing out deliciousness to the world for more than 60 years. We have donuts ready all day – for the trip, to enjoy at work, for the birthday party or just for fun.
Sunset Boulevard
On the go? Stop, enjoy the moment and grab a delicious sandwich or burger in our restaurant. We have something for everyone and a wide selection of good taste experiences.
Hovedbanen's Pharmacy
The Central Station Pharmacy is located at the western end of the Station Hall opposite DSB Sales & Services. Here you can find prescription drugs, over-the-counter medicines, skin care, vitamins etc.
Joe & The Juice
At JOE & THE JUICE we offer you fresh juice, delicious sandwiches and fantastic coffee in a wonderful combination of health and great taste and in a setting where you cannot help but feel happy and welcome.
Lagkagehuset
Lagkagehuset serves breads, cakes, sandwiches and salads with a smile all day, and we have everything you need for your journey, breakfast or lunch. Not to mention a great cup of coffee!
La Place
The staff at La Place puts all their knowledge, love and passion into a comprehensive and varied menu with more than 80 delicious homemade dishes for breakfast, lunch and dinner.
Matas
At Matas we aim to spread the feeling of beauty and well-being. Our employees are specially trained to guide you to the products that bring out the best in you.
McDonald's
McDonald's well-known restaurant with quick and good service. Cleanliness in every detail, quality ingredients and fast service.
Max Burgers
Max is Sweden's oldest and the Swedes' favorite hamburger chain. The ambition is the same as from the beginning – to serve the best hamburgers made from the best ingredients.
Starbucks
At Starbucks we offer a large selection of coffee from all over the world and our baristas are ready to prepare for you. Bring your coffee on the trip or enjoy it in the pleasant café atmosphere.